, 2022-09-21 10:48:20,
Laura Sutcliffe

Zara Tindall's daughter Mia accompanied her and husband Mike Tindall at the Queen's funeral, along with cousins Savannah and Isla, daughters of Peter Phillips. The royal cousins all wore their hair in braids with matching headbands.

Queen Elizabeth II's state funeral took place on Monday at Westminster Abbey and it's an event that will be remembered for many years to come. The royal family gathered to pay their respects to the monarch, who dedicated her life to service.
READ: Zara and Mike Tindall bring young daughters Mia and Lena to Queen's vigil
At the committal service at Windsor Castle's St. George's Chapel in the afternoon, Prince George and Princess Charlotte were joined by fellow royal children, Mia Tindall, daughter of Zara and Mike Tindall, and Savannah and Isla Phillips, daughters of Peter Phillips.
WATCH: Mia and Lena Tindall attend Queen's Windsor funeral
Did you notice the three blonde royal cousins, Savannah, age 11, Isla, 10, and Mia, eight, all dressed in black with matching black headbands?
MORE: Mia Tindall shares sweet moment with parents Zara and Mike after Queen's committal service – watch
The trio also all wore their hair in perfectly plaited braids. It was very sweet to see and they all looked exquisitely turned out to pay their respects to their late great grandmother.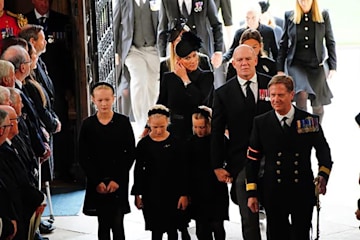 Savannah and Isla Phillips with Mia Tindall with matching hairstyles
Princess Charlotte was dressed in an all-black ensemble by Ancar. The young royal had a stunning diamond brooch in the shape of a horseshoe pinned to her lapel.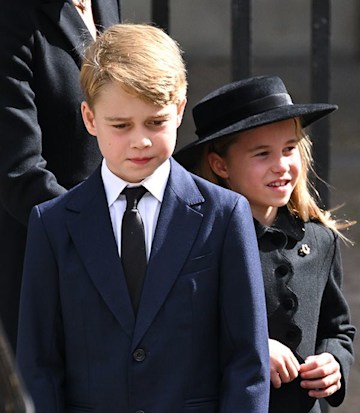 Prince George and Princess Charlotte at the funeral
The small accessory, which is Charlotte's first piece of significant jewellery she has worn in public, appeared…
?xml>
,
To read the original article, go to Click here