, 2022-11-21 07:30:03,
"Hair is hair. It grows out," everyone will tell you after you've just received a terrible haircut. You should just get over it, right? (Wrong.)
In reality, hair is so much more. It's part of one's identity and often a safety net. Cutting hair is an art form and has been used to define cultures and fashion for decades. Yet the importance of hair in connection to one's identity is often overlooked and thought of as something shallow ― something people shouldn't give a second thought to.
HuffPost spoke with eight people about the worst haircuts they ever got and how they coped.
Think you've had a haircut that's worse? Share your story and photo with us at [email protected]
Desmond Lim
"I had been to that salon two times prior. It was all right the other times when the same stylist had cut my hair. I saw this TikTok recommending hairstyles for men and I got inspired to go get my hair cut. I showed it to her and she said it was doable. I don't know what happened, but not only did it look nothing like the picture, it was uneven and badly cut.
I was in shock. When she took out the mirror to let me see the back of my head I thought she wasn't done yet. I couldn't think of what to say. Maybe it needed to be washed and styled? Part of me wanted to say something but the other part just wanted her to stop touching my hair and just leave. I paid and left as quickly as I could.
When I got home, I immediately washed my hair, hoping that it would look better, but it didn't. I saw that the front was a little uneven, so I tried to trim it a little myself but I don't think it helped at all. I made a couple of TikTok videos about my experience and some salons and barbers reached out to me offering to fix my hair. In the end, I went to a barber to get my hair cut again. It was definitely much shorter than I would have liked, but there was not much choice. At least I could leave the house without a cap on! My hair's still pretty short now and I plan to just let it grow out before doing anything with it again."
Natalie Bickel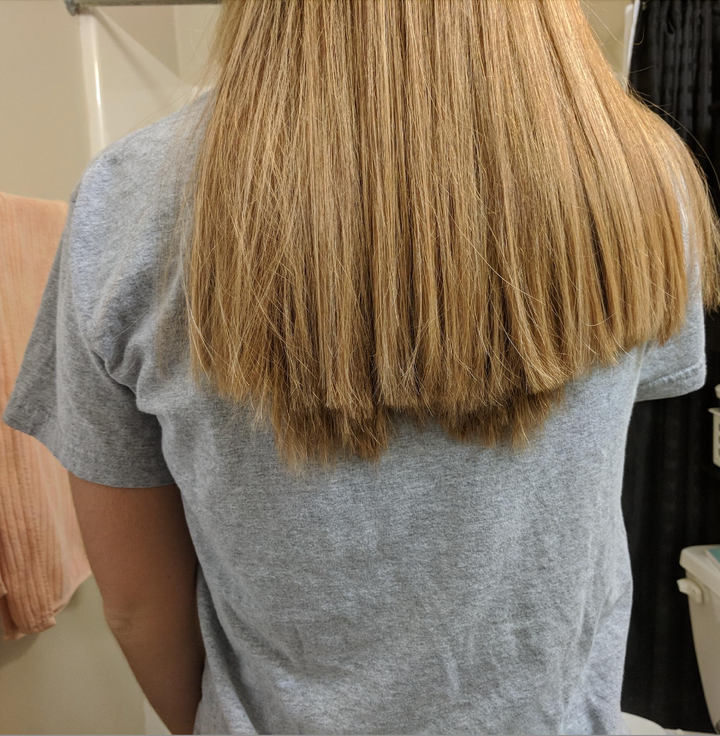 "During my salon experience, I was passed between three different stylists because they were overbooked. They didn't get the hair color tone right (it was supposed to be bleach blonde) and I left unknowingly with a harsh, uneven cut.
I'd been going to this hair salon for almost two years. I wanted to switch hairstylists…
,
To read the original article, go to Click here