, 2022-11-29 14:30:00,
A nickname often sticks around for a long time. Many bodybuilders like 'Big Ramy' and 'Flex' Wheeler have resorted to nicknames for various reasons. While some might adopt one for ease of pronunciation, Flex had cited an odd reason for adopting his nickname. In the 1991 Nationals, the bodybuilding champion revealed the origins of his nickname, which surprised everyone.
ADVERTISEMENT
Article continues below this ad
Before the nationals began, Flex Wheeler stood backstage, talking to the interviewer about his feelings before going up on stage. While the interviewer questioned him about his nickname, she also took a look at his brand-new hairstyle. What was so special about Kenneth 'Flex' Wheeler's hairstyle?
ADVERTISEMENT
Article continues below this ad
Flex Wheeler flaunts his name
Kenneth 'Flex' Wheeler is a retired IFBB professional who won the Arnold Classic title four times. Although he faced a lot of struggles in his life, he was one of the best bodybuilders of all time. In the interview, Flex talked about how he felt competing with some big names like Kevin Levrone and Ronnie Coleman. While tensions were soaring, along with nervousness, Flex showed off something surprising.
When the reporter asked him about his nickname, 'Flex' replied, "people used to tease me I was younger". However, growing up, the bodybuilder realized that people began liking his nickname, and he accepted it. The interviewer then immediately noticed his unique hairstyle and gestured for him to turn around.
DIVE DEEPER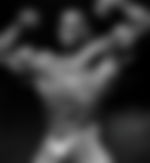 Turns out, Flex had carved out his name on his hair! The bodybuilder loved his nickname so much that he wasn't afraid to flaunt it. The interviewer looked amazed by the bodybuilder's preference for his new nickname.
ADVERTISEMENT
Article continues below this ad
The 1991 nationals and the future
At the 1991 NPC Nationals Heavyweights, Kenneth 'Flex' Wheeler stood second, alongside winner Kevin Levrone and Paul Demayo in third place. Incidentally, the eight-time Mr. Olympia Ronnie Coleman was also competing and stood in fourth place. Since then, Flex has gone on to win many more championships and crossed many hurdles.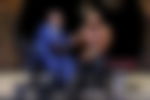 ,
To read the original article, go to Click here