, 2022-09-18 07:39:47,
Georgia Brown

Queen Consort Camilla debuted an elegant new hair transformation on Saturday since her husband King Charles III aceded to the throne following Her Majesty the Queen's death – see the 75-year-old royal's new look.

Queen Consort Camilla appears to have undergone a style renaissance since her husband, the newly appointed King Charles III, acceded to the throne following the recent death of Queen Elizabeth II.
LOOK: Queen Consort returns to her £850k Wiltshire home alone – see photos
Debuting her new look, the 75-year-old royal was photographed welcoming governors-general from the Commonwealth nations at Buckingham Palace on Saturday, sporting what royal fans are calling an "angled bob". The Queen Consort's new feathered hairstyle features more face-framing features, adding texture and volume to her signature tresses.
WATCH: 100 years of royal hairstyles
Camilla also appears to have brightened her former, ashy blonde look with buttery-blonde highlights, a departure from her longer, darker bob photographed earlier this week.
Royal fans were quick to notice the Queen Consort's modish new look, sharing their thoughts on Instagram account @royalhairchatter. "I really think that this is a wonderful cut and colour for Queen Camilla!" wrote a royal fan, as another penned: "I love it! Much more chic."
LOOK: Queen Consort Camilla's subtle tribute to late Queen with sentimental jewel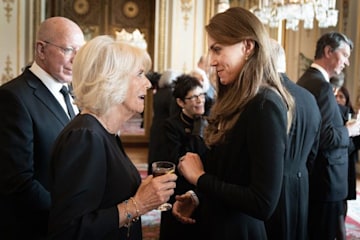 The Queen Consort appeared to debut a new feathered hairstyle
"This is a very flattering cut and colour. Really takes years off Queen Camilla and makes her look much more modern," commented a third royal fan.
Camilla is loyal to her London hairdresser Jo Hansford, though it is not confirmed whether the salon is to credit for the Queen Consort's…
?xml>
,
To read the original article, go to Click here